Many hospitals these days offer cashless hospitalisation. This means that a policyholder who is covered under medical insurance will be able to avail of services at these designated hospitals and their bills would be settled by Insurance Company or their TPA (third party administrators). This saves the policyholder/ immediate family's blocking of money.
FileDirector software from Spielberg, Germany would be a good fit to streamline the document exchange process which happens between hospitals and Insurance / TPA companies.
FileDirector will check for prerequisites and inform whether the machine has sufficient rights for installation, operating system compatibility and if the required ports are open.

The FileDirector server component will be installed on either
Windows 7 or above desktop
Windows 2008 or above server

The FileDirector software will run with SQL Express Database which is free of cost. It will install this component in case it is not there on the FileDirector server.
The hospital insurance desk will have FileDirector scan station license. It is assumed that the Hospital would have reasonably stable internet connectivity to send / receive documents.
Hospital will get standard cabinet structure for health insurance records. The structure would include mandatory fields such as Name of the patient, Admission Number, Mobile Number, Policy Number etc. as per Insurance company requirements. Broadly speaking these would be common across all Insurance / TPA companies.
Hospital would get Masters such as Document type which could include but not limited to pre-authorisation application, Query, Response to query, Approval letter, Letter of denial etc. Masters of Insurance Company as well as TPA would be provided for easy indexing.
Insurance Desk user would be able to scan / drag and drop the document in FileDirector, Index and send the same to Insurance / TPA company. Option will be available to Scan / drag and drop the document in FileDirector, Index and Hold. He or she will be able to add more documents to make this document set complete and then send to Insurance / TPA company via Email.
Insurance desk user will have an option to print acknowledgement letter for the patient confirming receipt of the number of documents that have been submitted for Insurance processing.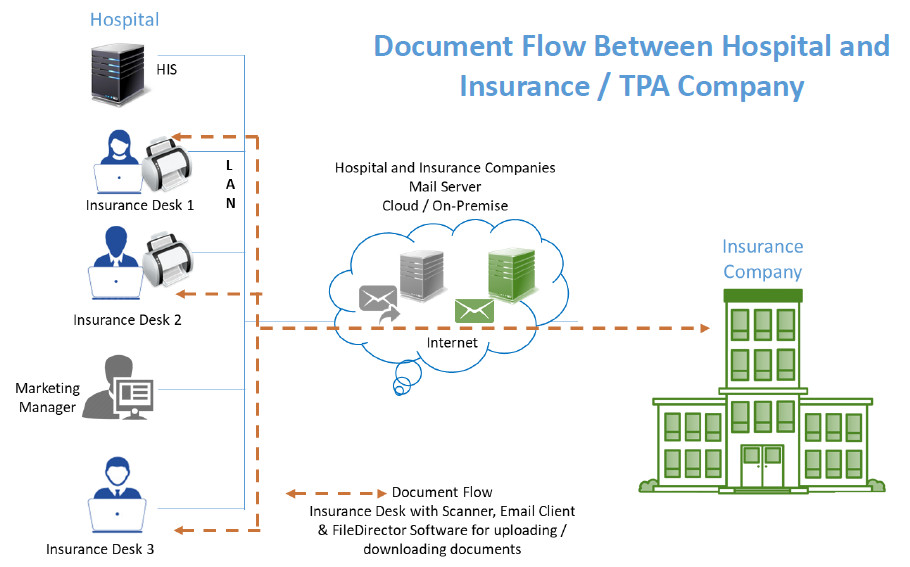 Reports:
The system would be able to generate different reports such as:
Claims processed today
Pending as of today
Approved today
Rejected today
Rejection with reason
Partial approved with reason
View
View for checking insurance company's incoming email messages / documents would be provided using IMAP integration. Insurance desk user will index and store these incoming messages in FileDirector for future retrieval.

Search
Users would be able to search documents using one or more indexing parameters and see records.
For more information e-mail us on sales@rincon.co.in and we will be glad to assist you.