Medical Records are now easier to retrieve for patients and doctors due to digital entry and filing of documents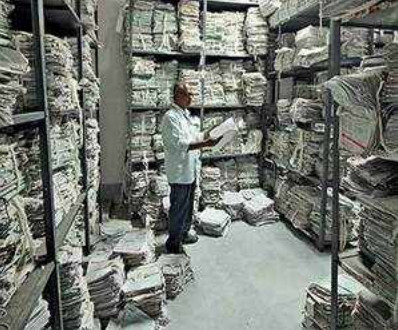 The Ahmedabad Civil Hospital has started digitising its records and has instituted a modern system of physical filing of records for the first time since digitisation came of age and years after Prime Minister Narendra Modi launched the Digital India campaign.
However, the hospital claims it is far ahead of other hospitals in state and that its data is linked to other government hospitals as well.
The new system will make it easy for patients to gain access to records, for doctors to study medical history and police to get information in medico-legal cases.
With the new Hospital Information System, digital records are interlinked to physical filing, divided by bundles, shelves and racks at the micro level to ensure it is retrieved as a moment's notice.
The system that is operational since past two months ends the dependence on trusted peons and keepers of archives who until now were the only ones who could find a file.
With over 10,00,000 files accumulated in past decade, locating a file from the archives was a nightmare for patients and doctors in the absence of these men. Civil Hospital sees 3,000 patients a day with 250-300 new cases being registered daily.
At present the hospital has three scanners but talks are under way to get two more so that digitization can keep pace with number of cases.
Medical Record Officer (MRO) of Civil Hospital Dr. Sanjay Solanki said, "There are two phases to this operation. One is to digitize new cases and we have begun doing so for two months. We can now access any document with the click of a button. The second phase is to digitize earlier documents which will take time."
Dr. Rajnish Patel of the General Surgery Department said, "It is wishful thinking that this will fall in place immediately. It is still quite an effort to get patient records, but it will get better with time."
Superintendent Dr. M M Prabhakar said, "Our Hospital Information System is at least five years ahead of other hospitals. We have connected our system to other government hospitals so our data is available to all. The digitisation of our archives will take some time, but it will happen."
Meanwhile, for those entrusted to maintain records for years, it is a big turnaround.
Ashok Nagpure, (59), an old-timer who has for decades handled the medical records is one of the two to be trusted to locate a file within half an hour in case of emergencies. It is a gargantuan task given that there are two large halls stacked with a decade worth of data.
The advent of the digital filing, Nagpure can now relax. He is set to retire in a couple months and says it is only fitting that his tenure is ending just as the winds of change are blowing through the sanitized corridors.
Deepak Shinde, 54, another Peon said, "Earlier, we went through so many files each day to locate one. We had a search time of half an hour to three days. Plus, at least 50 files were demanded every day. With all our old staff slowly retiring, I'm glad there's another way to get the files."
The original article can be found here.
If you are looking for a patient record management or a document / records management solutions, e-mail us on sales@rincon.co.in and we will be glad to assist you.